Further dates in Leipzig (31)
Name
Period
Duration
Location
Price
Name:
Time management and self-management
Period:
25.01.2024 - 26.01.2024
Period:
29.02.2024 - 01.03.2024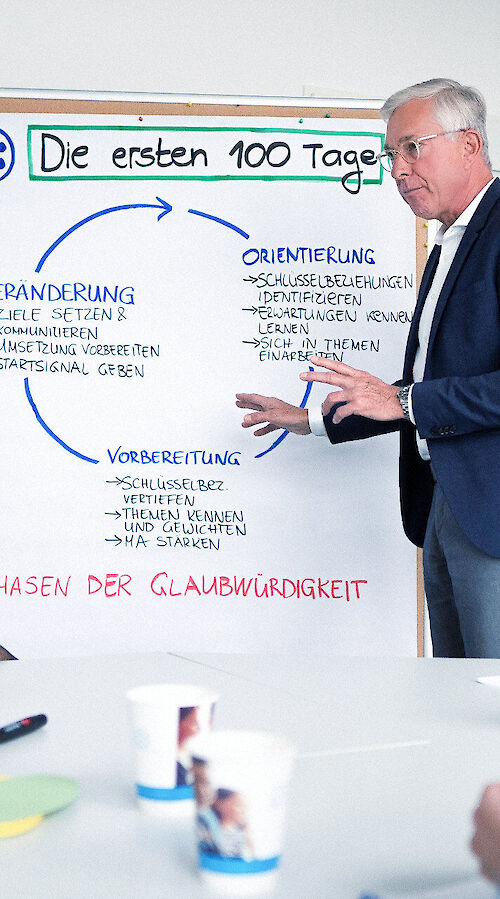 Find the right training for managers in Leipzig
For fifty years, the Management-Institut Dr. A. Kitzmann has been a renowned provider of continuing education for specialists and executives from business and administration.
In addition to Leipzig, classroom training courses are held in several cities in German-speaking countries, as well as in the surrounding foreign countries.
One focus of the Kitzmann training is on rhetoric and communication, on leadership topics as well as personality development.
In the seminars in Leipzig, too, our qualified trainers teach you helpful methods for discovering your own potential and using it in your everyday professional life. Because those who are aware of their own personality appear authentic and are less vulnerable.
In order to deal with employees or customers in the right way, clear communication is an important prerequisite. In the Kitzmann Rhetoric Seminars in Leipzig you will learn to use the right choice of words and the appropriate body language in different situations. You will be taught free speech techniques for professional presentations.
The Management Institute Dr. A. Kitzmann holds training courses in Leipzig on the following topics, among others:
Rhetoric and communication
Conflict management
Argumentation training and persuasion techniques
Dealing with difficult employees and customers
From employee to manager
Personality development
Field service
Conflict management
All training courses in Leipzig are clearly listed in our annual program. We look forward to welcoming you to Saxony in the future!
What our customers say
I have been able to take with me many important impulses for my professional and private life.
Goal-oriented, likeable, realistic, good exercises, individually adapted to the needs of the participants, many helpful tips.
I particularly liked the intensive exchange through the small group size.
I particularly liked the dynamics within the group; there was no boredom!
The seminar work was very intensive and I was able to respond excellently to my individual needs.
I was able to respond intensively to my needs!
In this training the topics relevant for the practice were discussed in detail and practiced!
I particularly liked the good working atmosphere created by the seminar leader and the prepared topics.
I found the opportunity to discuss current problems and conflicts in day-to-day management extremely helpful.
I really liked the seminar leader, who has brilliant techniques and examples of negotiation techniques.
Your benefits with trainings by Kitzmann in Leipzig
In general, a leadership or communication seminar in Leipzig offers a good opportunity to interact with people in similar professions. You can exchange views and experiences in the group and analyze the seminar topic from different perspectives.
If you have a specific concern, feel free to contact the trainer. Presentations and discussion situations can be planned and worked out with the seminar leader during communication courses in Leipzig.
The small group size of no more than nine participants allows for intensive learning. The theoretical part is loosened up by a great deal of practical relevance with many exercises. At the Leadership Seminars in Leipzig, you can use the case studies to examine your own leadership behavior.
You will return to your company with new impressions, but also expanded expertise. Through discussions and your actions, you pass on what you have learned to your employees. As a result, not only you, but indirectly a whole range of people benefit from the training in Leipzig.
Further education in Leipzig: Selection of our course offerings
Further benefits through executive courses in Leipzig
Many companies would like to offer training to their executives, but do not have suitable premises for this. Then an open seminar in Leipzig is the right choice.
The two-day Kitzmann training courses take place in modern and friendly seminar rooms that are equipped with the necessary technology. During the breaks or in the evening you have the opportunity to get to know the other participants better and perhaps make one or two interesting professional contacts.
After the executive course in Leipzig, you will receive a certificate of participation in PDF format. You can use this certificate of acquired knowledge as proof in case of career changes.
Certifications
Promoting further development as a reliable partner
The Management-Institut Dr. A. Kitzmann from Münster is a further education institution that primarily addresses specialists and executives from business and administration. For more than 45 years we have been accompanying and supporting specialists and executives in their further development.
More than 5,000 participants are trained annually in our open and in-house seminars nationwide. Participant-activating methods are predominantly used to achieve a high learning efficiency. Special emphasis is placed on practical implementation. The range of events covers the most important key qualifications for specialists and managers.