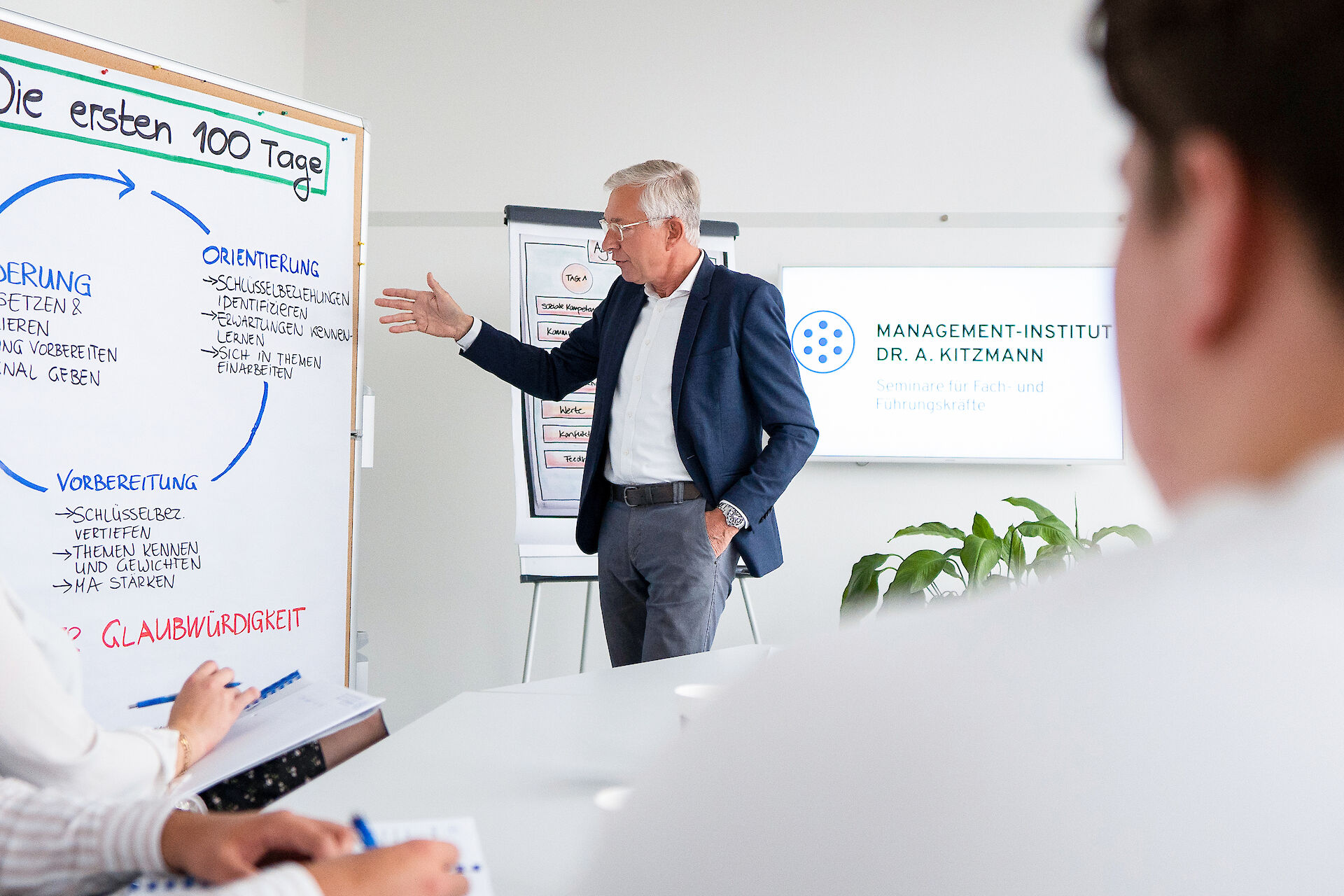 Seminar objective
Participants are familiarized with the most important aspects of their new leadership role. You will receive practical suggestions for handling the new range of tasks and responsibilities. Essential aspects of leadership behaviour will be looked at and practised. Potential conflicts that could arise in your new role will be discussed and possible solutions pointed out.
Video of seminar
Watch now
Seminar content
The new leadership role: responsibilities and goals
Sensitization to management problems
Personality training and self-development
The new role of the 'boss'
How do I grow into this role?
Conflict management and conflict resolution
Important communication tasks of a manager
How do I optimize communication within my group?
How do I promote cohesion and efficiency?
The most important management styles
How do I conduct an appraisal interview?
How do I evaluate employees?
How do I motivate my employees to achieve peak performance?
What should I do if an employee questions my leadership role?
How do I reconcile my personal goals with the company goals?
Methodology
Practice examples
Supervision
Facilitated discussion
Short trainer inputs
Exchange of experiences and discussion
Case studies
Target audience
The seminar from employee to manager is aimed at future managers and all those with management responsibility who wish to successfully change roles from employee to superior.
Further information
Durch den Besuch unserer Schulung "Vom Mitarbeiter zur Führungskraft" erreichen Sie einen guten Übergang in die Führungsposition. Sie lernen Führungsinstrumente kennen, die Ihre eigene Effizienz und Effektivität steigern. Im Lehrgang zeigen wir Ihnen zudem zielgerichtete Methoden für einen erfolgreichen Führungsalltag auf. So bleiben Sie auch im Umgang mit schwierigen Situationen mit Kollegen souverän in Ihrer Führung.
In the seminar from employee to manager, you will learn to develop your individual management style and to manage situations with employees. The seminar offers many opportunities to exchange experiences with our trainer as well as other participants. You will reflect on your own expectations, your leadership style and will be provided with effective methods to master challenges, conflicts and the change of roles. You will learn about the expectations of a leader and how to communicate with employees after the role change.
The two day training from employee to manager is takes place on the first seminar day at 10:00 to 17:00 and on the second seminar day from 09:00 to 16:00. In our training, managers receive important input from our trainers with a strong practical focus.
Further seminars
Inhouse
We would be happy to conduct all of our open seminars for you in an adapted form as an in-house seminar.
Testimonials
I particularly liked the practical relevance and the entertaining atmosphere.
I can rate this seminar as "very good"!
Goal-oriented, likeable, realistic, good exercises, individually adapted to the needs of the participants, many helpful tips.
Many practical exercises were used in this seminar, including video feedback.
Dates and Locations
( 82 Dates )
Period
Location
Duration
Price
Period:
06.10.2022 - 07.10.2022
Period:
10.10.2022 - 11.10.2022
Period:
10.10.2022 - 11.10.2022
Period:
20.10.2022 - 21.10.2022
Period:
24.10.2022 - 25.10.2022
Period:
27.10.2022 - 28.10.2022
Period:
07.11.2022 - 08.11.2022
Period:
14.11.2022 - 15.11.2022
Period:
14.11.2022 - 15.11.2022
Period:
17.11.2022 - 18.11.2022