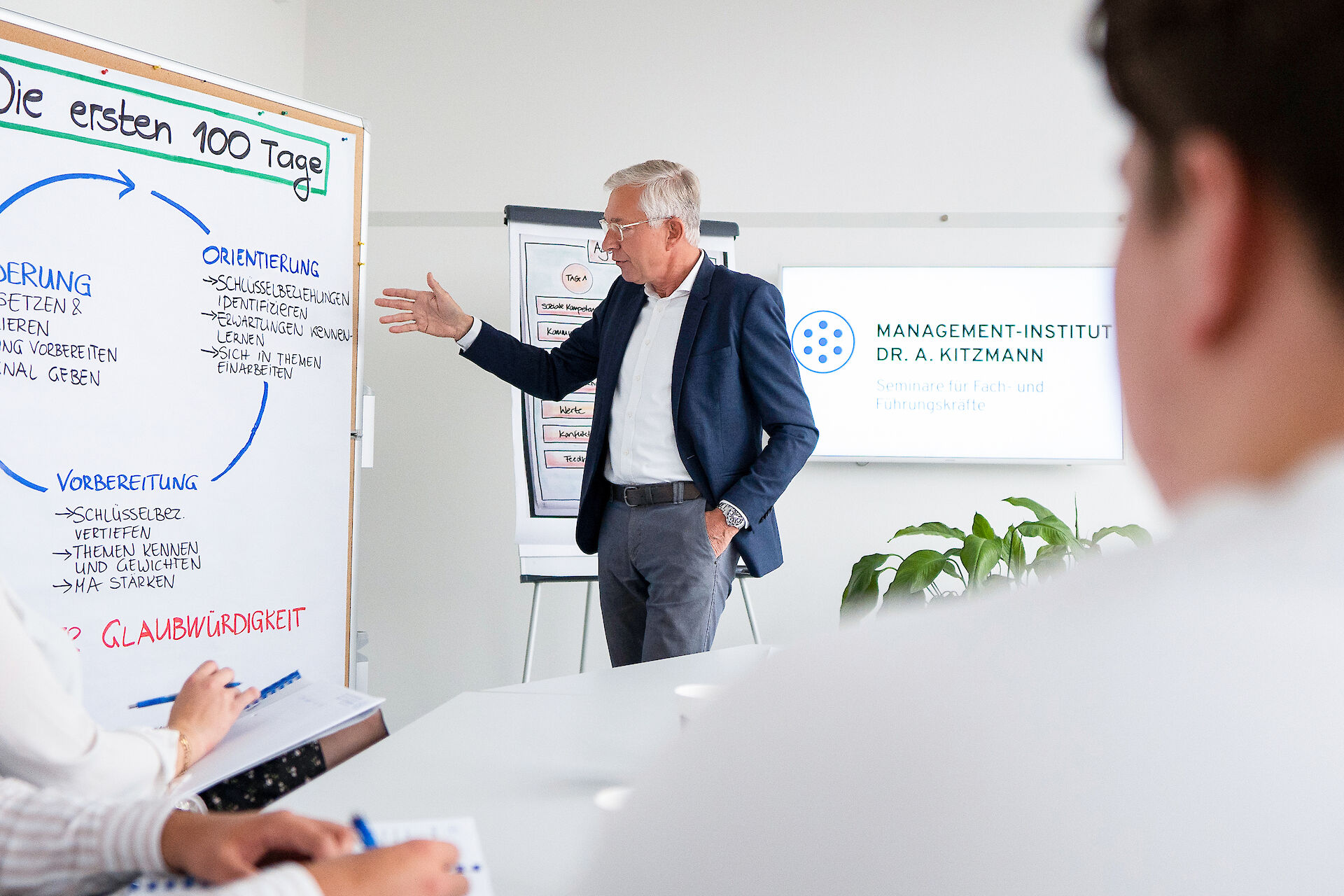 From employee to manager
Successful entry into the new leadership role
Seminar objective
In this seminar, you will become familiar with the most important aspects of the new supervisor role: You will change your role from colleague to leader. You will receive practical suggestions for defining your own leadership position. Essential aspects of your leadership behavior will be elaborated and clarified using practical examples. With this training, you will successfully transition from your role of colleague to a this of a supervisor.
Video about seminar
Watch now
Seminar content
Tasks and objectives of the new leadership role:
The new role of the supervisor: Design options and personal development
The most important leadership styles: Getting to know instruments and using them in a targeted manner
Find your personal leadership style
What makes a good leader?
Control and trust in leadership: New tasks as a supervisor
Personality training and self-discovery
Role change towards being an executive:
Important communication and optimization tasks of a manager
How do I conduct an employee discussion? How do I evaluate employees?
Dealing with generational differences in the team
Delegating to long-term team members and setting goals
Developing and expanding the leadership position
Team development: successful teams that are ready to perform:
How do I motivate my employees to perform at their best?
Raising awareness in the event of a leadership problem
How do I promote team spirit and efficiency?
How do I develop young leaders?
Dealing with difficult situations:
Conflict management and conflict resolution
How do I act when an employee questions my leadership role?
Own development areas and weak points
Benefits
After this course, you will be able to successfully navigate your start as a new leader.
You will receive valuable practical tips for a perfect start in your new leadership role
You will receive an overview of the most important leadership techniques to promote your personal leadership style
You will become familiar with the requirements for successful team development in order to achieve the desired goals with your employees
You will learn to successfully manage conflicts and analyze your areas of development
Methodology
Practice examples
Supervision
Facilitated discussion
Short trainer inputs
Exchange of experiences and discussion
Case studies
Target audience
The seminar from employee to manager is aimed at future managers and all those with management responsibility who wish to successfully change roles from employee to superior.
Hint:
This seminar is also offered as part of a qualification program.
Information about From employee to manager
Durch den Besuch unserer Schulung "Vom Mitarbeiter zur Führungskraft" erreichen Sie einen guten Übergang in die Führungsposition. Sie lernen Führungsinstrumente kennen, die Ihre eigene Effizienz und Effektivität steigern. Im Lehrgang zeigen wir Ihnen zudem zielgerichtete Methoden für einen erfolgreichen Führungsalltag auf. So bleiben Sie auch im Umgang mit schwierigen Situationen mit Kollegen souverän in Ihrer Führung.
In the seminar from employee to manager, you will learn to develop your individual management style and to manage situations with employees. The seminar offers many opportunities to exchange experiences with our trainer as well as other participants. You will reflect on your own expectations, your leadership style and will be provided with effective methods to master challenges, conflicts and the change of roles. You will learn about the expectations of a leader and how to communicate with employees after the role change.
The two day training from employee to manager is takes place on the first seminar day at 10:00 to 17:00 and on the second seminar day from 09:00 to 16:00. In our training, managers receive important input from our trainers with a strong practical focus.
Further seminars
Inhouse
We would be happy to conduct all of our open seminars for you in an adapted form as an in-house seminar.
Dates and Locations
( 93 Dates )
Period
Location
Duration
Price
Period:
01.06.2023 - 02.06.2023
Period:
05.06.2023 - 06.06.2023
Period:
12.06.2023 - 13.06.2023
Period:
15.06.2023 - 16.06.2023
Period:
19.06.2023 - 20.06.2023
Period:
19.06.2023 - 20.06.2023
Period:
03.07.2023 - 04.07.2023
Period:
06.07.2023 - 07.07.2023
Period:
10.07.2023 - 11.07.2023
Period:
17.07.2023 - 18.07.2023
Testimonials
I particularly liked the practical relevance and the entertaining atmosphere.
I can rate this seminar as "very good"!
Goal-oriented, likeable, realistic, good exercises, individually adapted to the needs of the participants, many helpful tips.
Many practical exercises were used in this seminar, including video feedback.
Video about From employee to manager