Further dates in Zurich (10)
Name
Period
Duration
Location
Price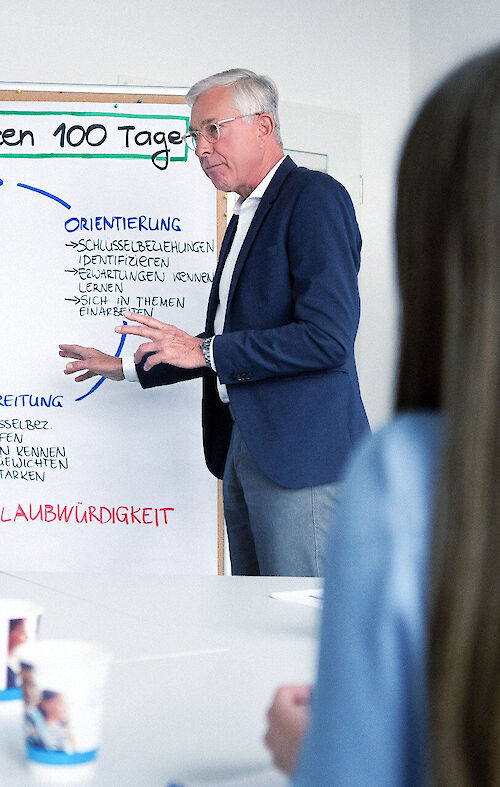 Find the right training for managers in Zurich
Rhetoric and Communication, Business Administration & Law, English Seminars - the Management Institute Dr. A. Kitzmann offers you the full program regarding executive training.
The advantage of our open seminars, i.e. trainings outside your company: You can fully concentrate on the learning contents in a new environment. Company-dependent disruptions are less frequent or are eliminated altogether.
Various seminars on business-relevant topics are also held in Switzerland. Particularly appreciated are our communication and leadership trainings in Zurich, which are designed to meet the demands of managers and team leaders.
The basis of the trainings are questions such as: What makes for good and successful leadership? What skills should you possess as a top leader and how can you strengthen these skills?
Under the guidance of our qualified trainers and together with the other participants, you will learn new and effective techniques of leadership. In the process, you will also expand your psychological knowledge and strengthen your social skills.
The Management Institute Dr. A. Kitzmann offers the following seminars in Zurich, among others:
Rhetoric
Conflict Management
Leading without being a superior
From employee to manager
Project management in practice
Personality development
Sales
Your advantages with Kitzmann training in Zurich
Leadership trainings in Zurich have a very special charm due to the beautiful surroundings. Our participants benefit from the advantages of a vibrant city that has an inspiring effect on visitors.
The leadership training courses in Zurich take place in modern event rooms with excellent technical equipment. The group of participants is kept small, with a maximum of nine people. This allows for an intensive exchange and an excellent learning atmosphere with many practical exercises. In addition, you will gain insights into the practices of other companies in discussion rounds - this will help you to rethink your own views and possibly adopt new approaches.
The executive training courses in Zurich take place on two consecutive days. In this way, you can fully engage with the learning content and also have the opportunity to continue the exchange with the other participants outside of the training.
After all, training courses also function as platforms for networking. This can lead to useful professional collaborations.
Further education in Zurich: Selection of our course offerings
Additional benefits through management courses in Zurich
Open seminars are certainly the first choice for intensive training of individual employees.
Moreover, not all companies have their own training rooms. In that case, a face-to-face seminar at another location is a good opportunity to acquire new expertise. Moreover, further training in Zurich can be combined with a professional appointment. Numerous companies from various industries are located in the city.
Certifications
Promoting further development as a reliable partner
The Management-Institut Dr. A. Kitzmann from Münster is a further education institution that primarily addresses specialists and executives from business and administration. For more than 45 years we have been accompanying and supporting specialists and executives in their further development.
More than 5,000 participants are trained annually in our open and in-house seminars nationwide. Participant-activating methods are predominantly used to achieve a high learning efficiency. Special emphasis is placed on practical implementation. The range of events covers the most important key qualifications for specialists and managers.
Hear what our customers say
I have been able to take with me many important impulses for my professional and private life.
Goal-oriented, likeable, realistic, good exercises, individually adapted to the needs of the participants, many helpful tips.
I particularly liked the intensive exchange through the small group size.
I particularly liked the dynamics within the group; there was no boredom!
The seminar work was very intensive and I was able to respond excellently to my individual needs.
I was able to respond intensively to my needs!
In this training the topics relevant for the practice were discussed in detail and practiced!
I particularly liked the good working atmosphere created by the seminar leader and the prepared topics.
I found the opportunity to discuss current problems and conflicts in day-to-day management extremely helpful.
I really liked the seminar leader, who has brilliant techniques and examples of negotiation techniques.