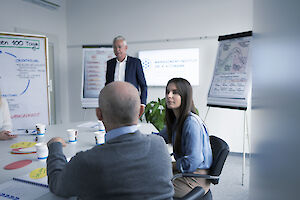 Self-confidence and personality management
Appear confident and authentic in any situation
Seminar objective
Behaving in a confident and convincing manner is a great advantage in a wide range of professional situations. Handling conversations, meetings, presentations and other various situations with charisma and professionalism is a skill that many inspire to acquire. This course gives participants the theoretical and practical basis for being their most confident and authentic self. The emphasis falls on the situations of conversation, leadership and sales in particular.
Video about seminar
Watch now
Seminar content
Self-confident and authentic appearance:
The five rules of self-confidence - how do I exude confidence and competence?
How do I increase my empathy?
Tips for increasing empathy
Creating positive resonance with interlocutors
Increase acceptance and trigger positive feelings
How can I recognize self-confidence in my behavior?
Confident body language and self-assurance:
Learn to consciously use body language to emphasize your impact: Gestures, facial expressions, speech modulation
Tips for increasing self-confidence and persuasiveness
The connection between body language and personality development
Exude self-confidence in difficult situations:
Staying calm in the face of nervousness and stage fright
When does self-confidence turn into annoying arrogance?
What is self-confident restraint?
Appear confident even with little preparation
Practical exercises to increase self-confidence:
Behavioral flexibility: practicing in everyday life
Observing my environment: What are the reactions to behavior?
Show your competence and use your "stage"
Benefits
In this course, you will develop the skills to appear confident and assertive in a variety of situations.
You will learn important principles for a self-confident appearance to increase your ability to assert yourself
You will directly apply the methods taught to increase your self-confidence
You will further develop your empathy and increase your social sensitivity
You create your own roadmap to improve your verbal and nonverbal communication
Methodology
Group discussion
Peer group advice
Perceptual exercises
Aids for transferring knowledge into everyday life
Trainer input
Target audience
The seminar self-confidence and personality management is aimed at specialists and executives from business enterprises of all sizes and industries as well as from public administration.
Hint:
This seminar is also offered as part of a qualification program.
Information about Self-confidence and personality management
Self-confidence has a lot to do with inner balance. People who are sure of themselves know themselves only too well: They can weigh strengths against weaknesses, know their talents, but also their own unused potential. People who have this much self-confidence can be honest - with themselves and with others.
He appears authentic.
In our self-confidence training, the main focus is on achieving inner security. Because confidence in oneself is logically reflected on the outside. A self-confident appearance is also associated with a positive charisma and more composure in action.
But what can be done when quiet doubts arise again and again? How can you train self-confidence - and does it even work at a certain age? Our self-esteem training deals with these and similar questions.
It is primarily about personality development. This is the willingness to look at oneself, to consciously work on oneself and finally to change oneself so that one is at peace with oneself.
This is possible at any stage of life and at any age.
For professional matters, a strengthening of self-confidence means that you can assess tasks more realistically, tackle them with confidence and lead them to success.
You come across as credible and trustworthy to others - which is particularly advantageous in sales and leadership situations.
In our training for more self-confidence, you will receive suggestions on how to come across as charismatic and convincing from within yourself. You will work with methodical tools that motivate you to achieve your goals. However, acting self-confident does not mean being ruthless. But to act in social contact in such a way that your own needs and rights are respected - but with consideration for the other person.
Even after a long professional life and in a higher position, you can still increase your self-esteem. Personality development is an ongoing process that often takes place unconsciously - for example, through the experiences you have. However, it is about you consciously and willingly changing yourself.
In self-awareness training, the content and exercises aim to strengthen your personality. Through questions like: In what ways do I separate myself from inhibiting ideas? How do I create self-reflection?
The theoretical part of the two-day seminar is complemented by examples with a strong practical orientation. You will have the opportunity to exchange ideas intensively with the trainer and the other participants.
Thanks to a small group size of a maximum of nine participants, the self-confidence course is very much focused on the individual. The program includes the following points, among others:
How can you build your self-esteem?
How can you recognize self-confidence in behavior?
Body language and self-confidence - what can you improve?
What makes you stand out as a person, what makes you stand out as a leader or professional?
How do you increase your acceptance?
Making decisions, taking yourself seriously.
Boundaries
During the self-confidence training you will learn with the help of very practical approaches how projects can succeed more easily. You strengthen your ability to recognize the origin of self-confidence and self-assurance. In this way, you work out your personal success factors and goals.
Even managers will benefit from helpful tips on how to be more self-confident and convincing. In addition, how to succeed in asserting yourself and drawing boundaries early on in the face of demanding people.
Further seminars
Inhouse
We would be happy to conduct all of our open seminars for you in an adapted form as an in-house seminar.
Dates and Locations
( 28 Dates )
Period
Location
Duration
Price
Period:
11.12.2023 - 12.12.2023
Period:
14.12.2023 - 15.12.2023
Period:
22.01.2024 - 23.01.2024
Period:
01.02.2024 - 02.02.2024
Period:
19.02.2024 - 20.02.2024
Period:
26.02.2024 - 27.02.2024
Period:
04.03.2024 - 05.03.2024
Period:
11.03.2024 - 12.03.2024
Period:
14.03.2024 - 15.03.2024
Period:
04.04.2024 - 05.04.2024
Testimonials
In this training the topics relevant for the practice were discussed in detail and practiced!
I found the technical competence of the seminar leader very good.
I particularly liked the open atmosphere and the individual approach to the needs of the seminar participants.
My expectations of this further education event have been completely fulfilled!
Video about Self-confidence and personality management